Calming Body Butter
Regular price
Sale price
$18.00 USD
Unit price
per
Sale
Sold out
The Calming Butter is perfect for those looking to care for theirselves at the end of the day with a soothing and restful evening.  If your problem is dry irritated skin or tired feet, achy muscles or in need of a sleep aide not only feels soft and creamy but has key ingredients such as eucalyptus, arnica and rosemary to aid in muscle relaxation, inflammation, and stuffy noses. 
Best For: All skin types.  But also for tired achy muscles and congestion. 
Smells Like: Eucalyptus scent. Minty, camphorous
Size: 4 oz 
Share
Why You'll Love It

Its multipurpose by soothing achy muscles and irritated skin. It also relaxes the body, helps with breathing, and moisturizes the skin
It's reasonably priced
It smells great
It uses all natural ingredients
How to use

Massage a small amount onto (unbroken) skin . Either all over the body or specific areas of pain or on the chest to relieve congestion.
Ingredients

Key Ingredients:
Shea Butter: moisturizer, anti aging, antifungal, antiimflammatory
Calendula-Avocado Oil: soothes irritated skin/rashes, moisturizes
Eucalutpus: relaxes muscles, relieves congestion, reduces pain

Full Ingredient List:
Shea butter, avocado oil, calendula, eucalyptus, rosemary essential oil, arnica, arrowroot powder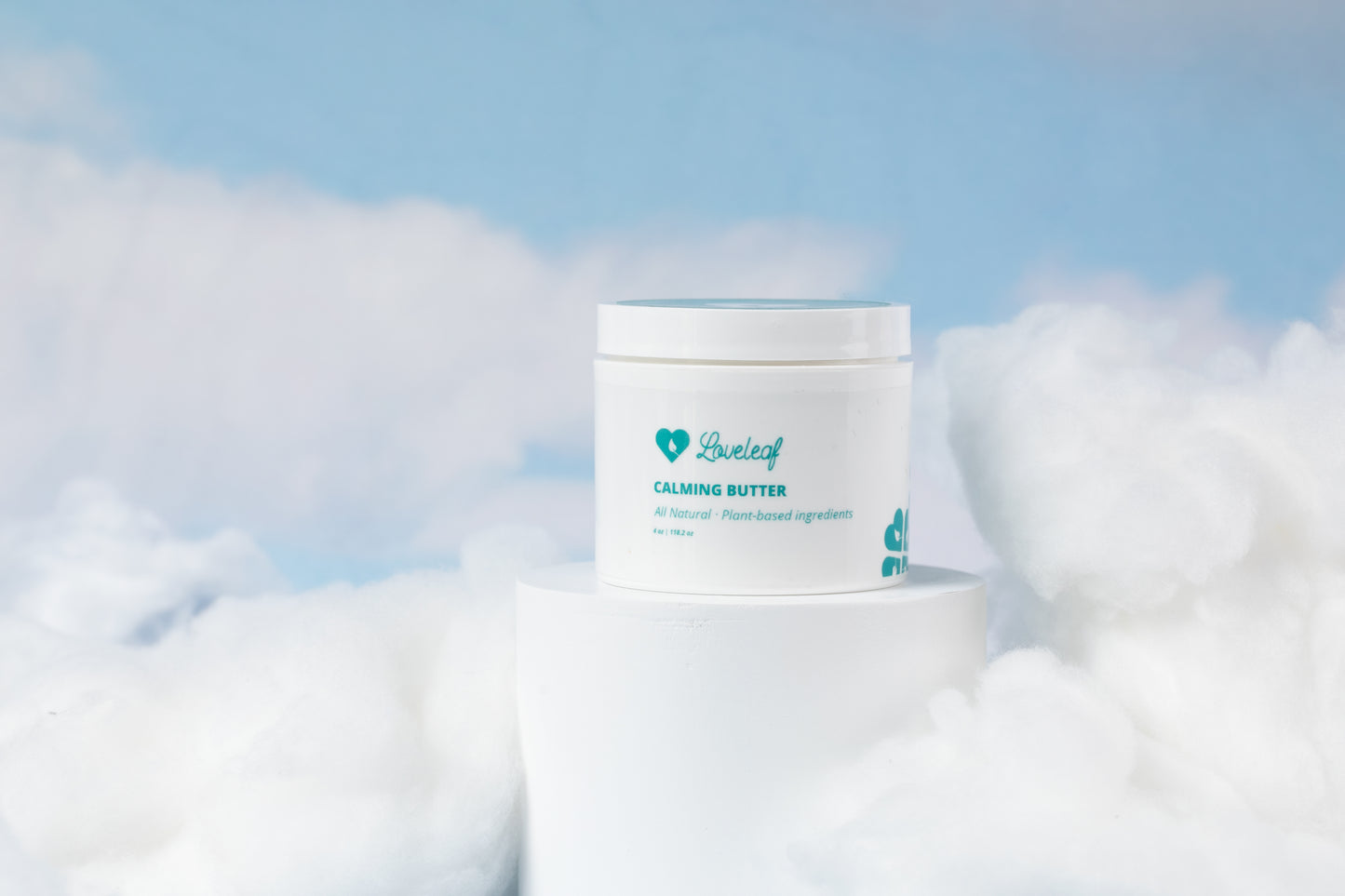 I love this product. I wish it just came in a bigger jar.
Tired muscles relief
This body butter is incredibly moisturizing but at the same time provides relief to my tired muscles. I get lots of pain in my muscles, some joints and feet from over exhaustion and lack of sleep. This body butter was so helpful in taking care of that. And the eucalyptus scent is so rejuvenating..
Amazing Discovery
I bought the Calming Body Butter at a pop-up and it is AMAZING! The scent makes me feel like I'm at a spa and my skin is loving it. I can't wait to buy more. Thank you for all you do!
Love it!
One of the things I love most about Loveleaf products is how good they smell! I deal with anxiety and I find aromatherapy to be a therapeutic. I love to wind down with a relaxing bath and then moisturize with the Calming Butter or my other fave, Lemongrass Lime Body Butter. They have brought me so much relief in these stressful times!
Geat for Sore Muscles
Since I've stepped up my workout reoutine recently, Loveleaf Calming Butter has been a much needed treat for my muscles. I've added the Calmng Butter to my nightime ritual. I will be stocking up on this.